Need help with grammar? Spelling? Punctuation?
No matter which word processing software you are using, no matter what you are writing—fiction, non-fiction, business letters, legal or medical documents—Whitesmoke can help perfect what you write!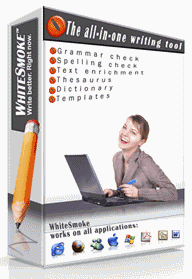 Works with any word processing software—Book Writer™, MS Word®, and others.
Perfect your English grammar with our English grammar check, grammar corrector, and grammar lessons.
Get just the right word with smart synonyms from our extensive synonyms dictionary.
Use the proofreader to check your English grammar and every other aspect of your writing.
Spell everything right with the spell checker's extensive dictionaries.
Power up your writing with relevant adjectives, adverbs, and phrases.
Get your punctuation right with the rules of the punctuation checker.
Just press F2 in your word processor to access the grammar checker and other tools.
Use Whitesmoke for anything you write!
Creative Writing
School papers
Essays
Business correspondence
Medical reports
Legal documents
All these writing tools in one!
Grammar checker
Thesaurus
Spell checker
Punctuation checker
Idioms dictionary
Whitesmoke works with most applications!
Use Whitesmoke with Book Writer™, Microsoft Word®, Outlook Express, Firefox, Internet Explorer—most programs that you might use to write something.
With Whitesmoke installed, just start up Book Writer™, Microsoft Word®, or your other writing software and press F2 when you need help to perfect your writing.
WhiteSmoke 3-day FREE Trial