Tools and Resources for Writing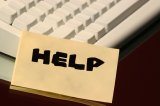 Software, articles, and other help for writers

If you are looking for software to help with your writing projects, look at our writing tools. If you like to read about writing, see the articles and ebooks in Writing Books, Writing eBooks, Writing Articles, Marketing Your Writings, Copywriting, Writing Tips, Writing Screenplays, and Your Writings - Stories, Essays, Poetry.
Book Writer™ – Word Processing for Writers
Are you writing a book?
Are you a student?
Are you researching?
If you are writing a book, or you have chapters, notes, papers, or any writings spread across multiple files, you can use Book Writer™ to free your creative mind from your computer.
Version 5.50: Now you can keep records on People, Places, Events, and Notes with your writings!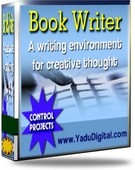 Combine related files into a project for easy management.
Merge individual chapters into a single manuscript for submissions.
Open all files in a project with a single click.
Move from file to file by clicking notebook tabs.
Find any word or phrase in all project files, opened or not.
Copy or move all files at once.
Zip all files in a project for backup or emailing.
Think of the right word easily with Active Thesaurus™.
Eliminate needless business functions from your word editor.
If you are a writer—not a business person or secretary—try this word processor made for writers!

More Information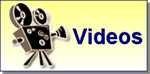 Whitesmoke™ – Check and Perfect Your Writing
Need help with grammar? Spelling? Punctuation?
No matter what software you are using for word processing, Whitesmoke can help perfect what you write! Grammar, spelling, and other language checking for fiction, non-fiction, business letters, legal medical documents, and email.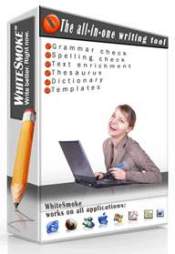 Works with any word processing software—Book Writer™, MS Word®, and others.
Perfect your English grammar with our English grammar check, grammar corrector, and grammar lessons.
Get just the right word with smart synonyms from our extensive synonyms dictionary.
Use the proofreader to check your English grammar and every other aspect of your writing.
Spell everything right with the spell checker's extensive dictionaries.
Power up your writing with relevant adjectives, adverbs, and phrases.
Get your punctuation right with the rules of the punctuation checker.
All these writing tools in one: Grammar checker, Thesaurus, Spell checker, Punctuation checker, Idioms dictionary.
Whitesmoke works with most applications! Use Whitesmoke with Book Writer™, Microsoft Word®, Outlook Express, Firefox, Internet Explorer—and many others.
See what it can do for your writing style.
WhiteSmoke 3-day FREE Trial
More Information
Selected Articles and Stories

A Guide to Creative Writing That Sells
It's unbelievable that with all the creative writing courses out there, that no one teaches the necessity of researching your market before you set pen to paper. Yes, we all want to be creative and let our imagination go.
How To Write Poetry
If you want to know how to write poetry, the first thing you have to do is write some. It doesn't matter how it turns out. Your own mistakes will become your teachers. Your own writing will motivate you to greater creativity.
Using "Tipping Point" Concepts To Market Your Book
Ever wonder how trends get started? As much as we'd like to think that all trends are Madison Avenue creations propagated by the media, many times a movement is sparked by the action of a few.
Combating Writer's Depression
Depression is something every writer I've known faces. When you sit at your desk staring at the blank page you think of a million things, hardly any of which belong to the story your're trying to write.
Fiction Writing Lessons from Shakespeare
Common advice in all fields of study is for the student to take lessons from a master. Unfortunately for those who wish to write fiction -- either in plays or stories -- the most renowned and highest authority in the art of fiction-making is long dead.
The Mind's Fancy Dress Party - Or: Brainstorming With Contentclix Copywriters
In Berlin a restaurant opens for anorexics and in Buffalo a lawyer with a stutter wins a court case. When everything you're working on has gone STALE and your own initially promising concepts are starting to annoy you, you need a brainstorming session to get to the missing bits or generate some new ideas.
How To Cultivate Greatness In Your Writing
There's a television commercial, I believe it's for E-trade, that talks about how nobody wants to be an ordinary. .. fill in the blank. Supposedly we aspire to be better. Nobody wants to be an ordinary athlete, nobody wants to be an ordinary investor.
12 Ways to Research a Historical Novel
Whether you are fictionalizing historical events or making up your own story, attention to detail can determine whether your novel is credible to history buffs or if they'll give it a pass. Read about the general history of the locale where your story is set, so you have some context for your story.
(0.011)
Bookmark Page
Bookmark Site