Tools and Resources for Writing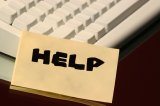 Software, articles, and other help for writers

If you are looking for software to help with your writing projects, look at our writing tools. If you like to read about writing, see the articles and ebooks in Writing Books, Writing eBooks, Writing Articles, Marketing Your Writings, Copywriting, Writing Tips, Writing Screenplays, and Your Writings - Stories, Essays, Poetry.
Book Writer™ – Word Processing for Writers
Are you writing a book?
Are you a student?
Are you researching?
If you are writing a book, or you have chapters, notes, papers, or any writings spread across multiple files, you can use Book Writer™ to free your creative mind from your computer.
Version 5.50: Now you can keep records on People, Places, Events, and Notes with your writings!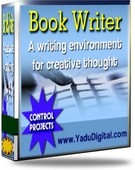 Combine related files into a project for easy management.
Merge individual chapters into a single manuscript for submissions.
Open all files in a project with a single click.
Move from file to file by clicking notebook tabs.
Find any word or phrase in all project files, opened or not.
Copy or move all files at once.
Zip all files in a project for backup or emailing.
Think of the right word easily with Active Thesaurus™.
Eliminate needless business functions from your word editor.
If you are a writer—not a business person or secretary—try this word processor made for writers!

More Information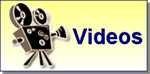 Whitesmoke™ – Check and Perfect Your Writing
Need help with grammar? Spelling? Punctuation?
No matter what software you are using for word processing, Whitesmoke can help perfect what you write! Grammar, spelling, and other language checking for fiction, non-fiction, business letters, legal medical documents, and email.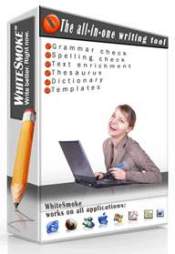 Works with any word processing software—Book Writer™, MS Word®, and others.
Perfect your English grammar with our English grammar check, grammar corrector, and grammar lessons.
Get just the right word with smart synonyms from our extensive synonyms dictionary.
Use the proofreader to check your English grammar and every other aspect of your writing.
Spell everything right with the spell checker's extensive dictionaries.
Power up your writing with relevant adjectives, adverbs, and phrases.
Get your punctuation right with the rules of the punctuation checker.
All these writing tools in one: Grammar checker, Thesaurus, Spell checker, Punctuation checker, Idioms dictionary.
Whitesmoke works with most applications! Use Whitesmoke with Book Writer™, Microsoft Word®, Outlook Express, Firefox, Internet Explorer—and many others.
See what it can do for your writing style.
WhiteSmoke 3-day FREE Trial
More Information
Selected Articles and Stories

Proven Secrets Of Writing And Publishing Your Own Ebook... In Less Than A Week!
In their ebook "How To Write And Publish Your Own Ebook. .. In As Little As 7 Days", Jim Edwards and Joe Vitale teachyou how to adapt a proven ebook writing formula to vastlyimprove the performance of your own ebook writingtechniques.
My Favorite Errors to Correct (Donít make these mistakes, and your writing will rise above most other writing.) Part 2
Negotiables: These are rules that the experts largely agree can be broken to good effect. In formal writing (such as a doctoral dissertation), the strict rules would still apply. But in informal writing, such as writing an autobiography, looser rules are acceptable.
Writing a Book - Tips From An Author #9
Writing specific GenresWhat is a 'genre'? It's a fancy French word for 'type' or 'kind'. A 'Thriller' is a 'type' of story. Thrillers therefore make up a 'genre'. Some genres have become so 'reduced to practice' that they are actually cliches of themselves.
Ghostwriting for Fun and Profit
We've all heard of ghostwriters. For some, a ghostwriter is the ghostly assistant to junior detectives on a PBS kids' show. For most, however, a ghostwriter is someone who writes for another, in the name of another.
How to Write a Book in Five Easy Steps
Because Iíve written more than a 100 books and even been a book publisher, people regularly ask me how one writes a book. I always shrug and say itís not that hard. But this little article attempts to provide a better answer to the question by describing the easy five-step approach that I use and that I recommend you use.
Article Writing Tips
3 Tips when Writing ArticlesDo you love to write? Do you want to put those writing skills to good use? Perhaps you want to see your name published whether it be in a newspaper, magazine, e-zine or other forms of publication.
Travel Writer Jobs, What Are They And How To Find Them
Travel writing jobs are few and far between. Getting into this field is hard to do and requires a lot of training and experience. But, there are many benefits to them. There are many individuals who would love to get employment opportunities in this field.
Book Review: The Sound of Paper
She splits her year between New York City and Arizona. Ihave been a fan since her first book and especially enjoyed"The Artist Way. " I like to believe that I was one of thefirst to devour it page by page, exercise by exercise.
(0.001)
Bookmark Page
Bookmark Site