Tools and Resources for Writing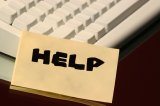 Software, articles, and other help for writers

If you are looking for software to help with your writing projects, look at our writing tools. If you like to read about writing, see the articles and ebooks in Writing Books, Writing eBooks, Writing Articles, Marketing Your Writings, Copywriting, Writing Tips, Writing Screenplays, and Your Writings - Stories, Essays, Poetry.
Book Writer™ – Word Processing for Writers
Are you writing a book?
Are you a student?
Are you researching?
If you are writing a book, or you have chapters, notes, papers, or any writings spread across multiple files, you can use Book Writer™ to free your creative mind from your computer.
Version 5.50: Now you can keep records on People, Places, Events, and Notes with your writings!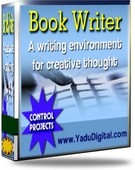 Combine related files into a project for easy management.
Merge individual chapters into a single manuscript for submissions.
Open all files in a project with a single click.
Move from file to file by clicking notebook tabs.
Find any word or phrase in all project files, opened or not.
Copy or move all files at once.
Zip all files in a project for backup or emailing.
Think of the right word easily with Active Thesaurus™.
Eliminate needless business functions from your word editor.
If you are a writer—not a business person or secretary—try this word processor made for writers!

More Information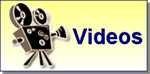 Whitesmoke™ – Check and Perfect Your Writing
Need help with grammar? Spelling? Punctuation?
No matter what software you are using for word processing, Whitesmoke can help perfect what you write! Grammar, spelling, and other language checking for fiction, non-fiction, business letters, legal medical documents, and email.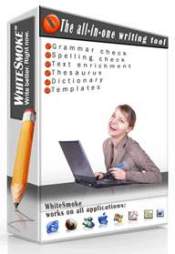 Works with any word processing software—Book Writer™, MS Word®, and others.
Perfect your English grammar with our English grammar check, grammar corrector, and grammar lessons.
Get just the right word with smart synonyms from our extensive synonyms dictionary.
Use the proofreader to check your English grammar and every other aspect of your writing.
Spell everything right with the spell checker's extensive dictionaries.
Power up your writing with relevant adjectives, adverbs, and phrases.
Get your punctuation right with the rules of the punctuation checker.
All these writing tools in one: Grammar checker, Thesaurus, Spell checker, Punctuation checker, Idioms dictionary.
Whitesmoke works with most applications! Use Whitesmoke with Book Writer™, Microsoft Word®, Outlook Express, Firefox, Internet Explorer—and many others.
See what it can do for your writing style.
WhiteSmoke 3-day FREE Trial
More Information
Selected Articles and Stories

SEO Article Writing 101
SEO writing is very different from content writing, article writing, story writing and news writing. When I first realized my innate talent for writing stuff and putting thoughts into words, I was still reading Mills and Boons, and it was during this time that my romance storybooks were confiscated by my classroom teacher because I was reading in class.
Writing Resources: 7 Books For Improving Your Manuscript
Whether a crawling novice or polished professional, writers from every walk of life have room for improvement in their work. An endless array of rules and techniques must be kept in mind when writing Ė punctuation, grammar, transition, show donít tell, etc.
Promoting Your Online Writing Portfolio
Dear Writing Reader,One of the most popular questions from Authors on my site, Writing. Com, is: "How do I promote my Online Writing Portfolio outside of Writing. Com? "Here are my top five tips for increasing the amount of exposure to anyone's online Writing Portfolio:
Finding A Pot Of Gold In Article Writing
If you have a website, then you have probably been bombarded by people telling you that writing articles is the key to successful marketing. However, unless you are a professional writer, article writing probably seems as unachievable as obtaining that pot of gold at the end of the rainbow.
10 Article Writing Quirks
Much has been touted about the effectiveness of article writing in the promotion of their business. While everyone raves about its benefits Iíll look into a few quirks. Too much junk- You canít even imagine the amount of rehash material that is being passed off as something in which the reader can find valuable.
How to Write a Book in Five Easy Steps
Because Iíve written more than a 100 books and even been a book publisher, people regularly ask me how one writes a book. I always shrug and say itís not that hard. But this little article attempts to provide a better answer to the question by describing the easy five-step approach that I use and that I recommend you use.
The Gifts of Being a Writing Parent
You have a deadline. Your work is due within hours, your contact keeps giving you the runaround and your e-mail account suddenly crashes. Youíre ready to dive out the window of a highrise because youíre this close to losing your next paycheck.
Writing Is Fun!
When I was establishing my consultants practice in 1990 I set about creating a book. The book was aimed at helping people to progress in their careers and shows how to assess yourself, prepare an interview winning resumeí, market yourself and win the job at interviews, plus other real life tips.
(0.001)
Bookmark Page
Bookmark Site