Tools and Resources for Writing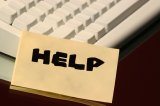 Software, articles, and other help for writers

If you are looking for software to help with your writing projects, look at our writing tools. If you like to read about writing, see the articles and ebooks in Writing Books, Writing eBooks, Writing Articles, Marketing Your Writings, Copywriting, Writing Tips, Writing Screenplays, and Your Writings - Stories, Essays, Poetry.
Book Writer™ – Word Processing for Writers
Are you writing a book?
Are you a student?
Are you researching?
If you are writing a book, or you have chapters, notes, papers, or any writings spread across multiple files, you can use Book Writer™ to free your creative mind from your computer.
Version 5.50: Now you can keep records on People, Places, Events, and Notes with your writings!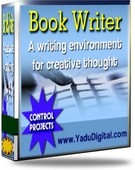 Combine related files into a project for easy management.
Merge individual chapters into a single manuscript for submissions.
Open all files in a project with a single click.
Move from file to file by clicking notebook tabs.
Find any word or phrase in all project files, opened or not.
Copy or move all files at once.
Zip all files in a project for backup or emailing.
Think of the right word easily with Active Thesaurus™.
Eliminate needless business functions from your word editor.
If you are a writer—not a business person or secretary—try this word processor made for writers!

More Information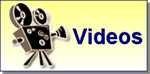 Whitesmoke™ – Check and Perfect Your Writing
Need help with grammar? Spelling? Punctuation?
No matter what software you are using for word processing, Whitesmoke can help perfect what you write! Grammar, spelling, and other language checking for fiction, non-fiction, business letters, legal medical documents, and email.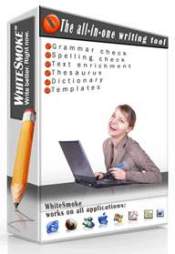 Works with any word processing software—Book Writer™, MS Word®, and others.
Perfect your English grammar with our English grammar check, grammar corrector, and grammar lessons.
Get just the right word with smart synonyms from our extensive synonyms dictionary.
Use the proofreader to check your English grammar and every other aspect of your writing.
Spell everything right with the spell checker's extensive dictionaries.
Power up your writing with relevant adjectives, adverbs, and phrases.
Get your punctuation right with the rules of the punctuation checker.
All these writing tools in one: Grammar checker, Thesaurus, Spell checker, Punctuation checker, Idioms dictionary.
Whitesmoke works with most applications! Use Whitesmoke with Book Writer™, Microsoft Word®, Outlook Express, Firefox, Internet Explorer—and many others.
See what it can do for your writing style.
WhiteSmoke 3-day FREE Trial
More Information
Selected Articles and Stories

Write A Picture!
It can take quite a leap to get from the written word to a movie screen. A screenplay, for all its clear descriptions of where characters are and what they say, has to work hard to meet the dramatic immediacy that we expect from films.
Seven Ways to Select a Book Topic That Sells
Since a book title is the number one "Essential Hot-Selling Point" for your book, it's a good idea to choose one that sells well. 1. Write what you are passionate about. Write about a topic that will still interest you in two years.
Seven Secrets of Writing a Book that Sells
It's one thing to write a book, it's an entirely different thing to write one that's a saleable, viable, marketable product. Ensuring the success of a book is something even the biggest publishers have never been able to guarantee.
Writing From The Edge: Trembling Your Way to Publication
A few nights ago in the final class of the third incarnation of the Book Proposal Boot Camp, we reviewed parts of one author's proposal and all concurred: Though her author bio and marketing analysis sections sparkled, her overview rambled and failed to clearly convey the power of her book's message.
The ONLY Thing You Need to Know About Writing Articles
You don't need to be a great writer to write great articles, just be fast and entertaining. There is only ONE SINGLE THING you need to know about article writing. Tell a story. Stories are easy to follow and interesting.
Seven Secrets Of Highly Creative Writers
The Lifewriting™ approach to your writing career demands a relatively high creative output. It isn't designed to coddle people who nurse a single story for years before sending it out. But students often protest that they simply don't come up with many good ideas, and that the ideas they do generate are appropriate for novels.
How To Get A Reporter's Attention For Your Book
Reporters are busy people. On any given day they are fielding dozens of phone calls, making calls of their own, reading stacks of newspapers and magazines and rushing to meet deadlines. So how do you break through all the noise to get a reporter or an editor on the phone to listen to your pitch?
How to Write an Ebook
The hardest part of writing is the first sentence. When you look at the whole project, it seems like an impossible task. That's why you have to break it down into manageable tasks. Think of climbing a mountain.
(0.001)
Bookmark Page
Bookmark Site