Tools and Resources for Writing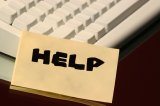 Software, articles, and other help for writers

If you are looking for software to help with your writing projects, look at our writing tools. If you like to read about writing, see the articles and ebooks in Writing Books, Writing eBooks, Writing Articles, Marketing Your Writings, Copywriting, Writing Tips, Writing Screenplays, and Your Writings - Stories, Essays, Poetry.
Book Writer™ – Word Processing for Writers
Are you writing a book?
Are you a student?
Are you researching?
If you are writing a book, or you have chapters, notes, papers, or any writings spread across multiple files, you can use Book Writer™ to free your creative mind from your computer.
Version 5.50: Now you can keep records on People, Places, Events, and Notes with your writings!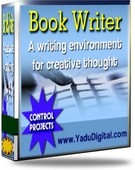 Combine related files into a project for easy management.
Merge individual chapters into a single manuscript for submissions.
Open all files in a project with a single click.
Move from file to file by clicking notebook tabs.
Find any word or phrase in all project files, opened or not.
Copy or move all files at once.
Zip all files in a project for backup or emailing.
Think of the right word easily with Active Thesaurus™.
Eliminate needless business functions from your word editor.
If you are a writer—not a business person or secretary—try this word processor made for writers!

More Information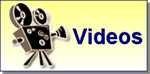 Whitesmoke™ – Check and Perfect Your Writing
Need help with grammar? Spelling? Punctuation?
No matter what software you are using for word processing, Whitesmoke can help perfect what you write! Grammar, spelling, and other language checking for fiction, non-fiction, business letters, legal medical documents, and email.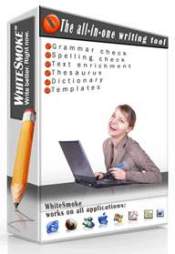 Works with any word processing software—Book Writer™, MS Word®, and others.
Perfect your English grammar with our English grammar check, grammar corrector, and grammar lessons.
Get just the right word with smart synonyms from our extensive synonyms dictionary.
Use the proofreader to check your English grammar and every other aspect of your writing.
Spell everything right with the spell checker's extensive dictionaries.
Power up your writing with relevant adjectives, adverbs, and phrases.
Get your punctuation right with the rules of the punctuation checker.
All these writing tools in one: Grammar checker, Thesaurus, Spell checker, Punctuation checker, Idioms dictionary.
Whitesmoke works with most applications! Use Whitesmoke with Book Writer™, Microsoft Word®, Outlook Express, Firefox, Internet Explorer—and many others.
See what it can do for your writing style.
WhiteSmoke 3-day FREE Trial
More Information
Selected Articles and Stories

Think You Can't Write Articles? Think Again!
Writing articles and putting them out on the web for everyone to see can be a little intimidating though at first, especially if you donít consider yourself a writer. Remember that you have a lot of knowledge in your area of expertise that your readers are looking for, so just start sharing that knowledge in articles.
A "Plan 9" Book?
Sometimes, when you do a little writing like I do, you get tipped off as to what upcoming books and authors are really gonna be hot. And folks, Iíve got a book title and an authorís name for yíall that I think may be the hottest of this entire year.
Writing Effectively: A Two-Part Guide, Part 2
In Part 1, I gave you some ideas on how to write your text. When your text is finished, you will need to review it in order to spot the flaws, correct the errors, and put a final coat of polish on your good work.
Writing The Perfect Sales Letter
Before you actually write the e-book we are going to write the sales letter first. Now I suggest you write it in Microsoft Word and save it. Then we can transfer it to the main ďSales site PageĒ when we are designing our basic site in step 5 The main reason we are writing our sales copy before we ever write a word in our e-Book is because it hasnít actually being created yet, which means there is absolutely no limit what you can write in your sales letter.
Writing the Denouement for Mystery Stories
I've read many mystery novels in which the writer left out the denouement, but, in my opinion, a mystery without one is seriously lacking. Admittedly, I grew up reading Hercule Poirot, in which he always demanded to gather up all the suspects so he could demonstrate his brilliance in deducing the meaning of all the perplexing clues and fingering the murderer.
Copywriting Secrets Of India's Mystics
Hi everyone,Been ruminating on this one for a little while now but itís probably one of the most profound discoveries of my life. It all began with a little book about music and itís had such a deep influence on my copywriting and small business, indeed my whole outlook on life, I'd like to share it with you all now.
Review: Michael Masterson's Accelerated Program for Six-Figure Copywriting
I have to tell you, I was very skeptical in the beginning. Nervous even. I had one finger on the "buy now" button, and one finger poised, ready to request a refund. I guess, when I bought Michael Masterson's course, I was anxious that this would be one of those screaming, ranting, raving sales letter courses that tells you that you HAVE to write all copy the same way with a tone that sounds like a used car salesman on steroids.
Itís Good To Be A New Writer: Breaking The Myth That Experience Is Everything
Thereís a rumor out there in the publishing world that an editor wonít even look at the work of a new writer. It might be true for certain types of writing, but after interviewing hundreds of editors, Iíve found that most are more open to new writers than you might think.
(0.001)
Bookmark Page
Bookmark Site