Tools and Resources for Writing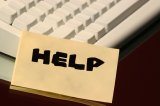 Software, articles, and other help for writers

If you are looking for software to help with your writing projects, look at our writing tools. If you like to read about writing, see the articles and ebooks in Writing Books, Writing eBooks, Writing Articles, Marketing Your Writings, Copywriting, Writing Tips, Writing Screenplays, and Your Writings - Stories, Essays, Poetry.
Book Writer™ – Word Processing for Writers
Are you writing a book?
Are you a student?
Are you researching?
If you are writing a book, or you have chapters, notes, papers, or any writings spread across multiple files, you can use Book Writer™ to free your creative mind from your computer.
Version 5.50: Now you can keep records on People, Places, Events, and Notes with your writings!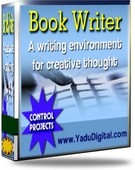 Combine related files into a project for easy management.
Merge individual chapters into a single manuscript for submissions.
Open all files in a project with a single click.
Move from file to file by clicking notebook tabs.
Find any word or phrase in all project files, opened or not.
Copy or move all files at once.
Zip all files in a project for backup or emailing.
Think of the right word easily with Active Thesaurus™.
Eliminate needless business functions from your word editor.
If you are a writer—not a business person or secretary—try this word processor made for writers!

More Information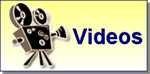 Whitesmoke™ – Check and Perfect Your Writing
Need help with grammar? Spelling? Punctuation?
No matter what software you are using for word processing, Whitesmoke can help perfect what you write! Grammar, spelling, and other language checking for fiction, non-fiction, business letters, legal medical documents, and email.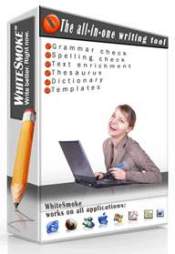 Works with any word processing software—Book Writer™, MS Word®, and others.
Perfect your English grammar with our English grammar check, grammar corrector, and grammar lessons.
Get just the right word with smart synonyms from our extensive synonyms dictionary.
Use the proofreader to check your English grammar and every other aspect of your writing.
Spell everything right with the spell checker's extensive dictionaries.
Power up your writing with relevant adjectives, adverbs, and phrases.
Get your punctuation right with the rules of the punctuation checker.
All these writing tools in one: Grammar checker, Thesaurus, Spell checker, Punctuation checker, Idioms dictionary.
Whitesmoke works with most applications! Use Whitesmoke with Book Writer™, Microsoft Word®, Outlook Express, Firefox, Internet Explorer—and many others.
See what it can do for your writing style.
WhiteSmoke 3-day FREE Trial
More Information
Selected Articles and Stories

What Bruce Springsteen Taught Me About Writing
This year marks the 30th anniversary of the release of Bruce Springsteen's groundbreaking album Born to Run. Columbia Records is celebrating by re-releasing the disc with lots of audio and video goodies including interview material of Bruce discussing the writing of this seminal work.
A Quick Start Guide To Writing Your Memoir
I've learned that when a person starts thinking about telling their life story, they tend to overthink it. They get caught up in worrying about things such as what others will think and who would publish it.
How To Cultivate Greatness In Your Writing
There's a television commercial, I believe it's for E-trade, that talks about how nobody wants to be an ordinary. .. fill in the blank. Supposedly we aspire to be better. Nobody wants to be an ordinary athlete, nobody wants to be an ordinary investor.
Is Your Book Selling Well?
If your campaign isn't doing so well there might be a million reasons why. Everything from the book cover to the timing of the book release could affect sales. But there are a few other components that could affect sales and actually cause a campaign to fail that has the potential of being successful.
Many Writers, One Clear Voice
Imagine creating your first book, one on which hangs the future of your company-and maybe even the industry you love. Imagine you have a publishing contract, five editors, a eighty contributing authors, hundreds of draft pages, a deadline in five weeks and a growing fear that the book you intended to create is nowhere in sight!
Tips To Help You To Write With Success
Writing is something that everyone can enjoy! Writing is freeing and fun and exciting, if you really let your imagination go writing can take you to places that you have never been before.
How to Write Your Own Baby Shower Verses
A poem or verse is a literary composition used to express emotions or ideas using literary techniques like rhyme and metaphor. Although there are no set rules for creating poetry, these tips will help you create your own baby shower verses:
Lost That Writing Contest? Take Advantage Of It.
I submitted the best story Iíve ever written to a contest, but it didnít even win an honorable mention! I guess Iím not as good a writer as I thought I was, I might as well quit right now.
(0.000)
Bookmark Page
Bookmark Site