Tools and Resources for Writing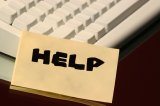 Software, articles, and other help for writers

If you are looking for software to help with your writing projects, look at our writing tools. If you like to read about writing, see the articles and ebooks in Writing Books, Writing eBooks, Writing Articles, Marketing Your Writings, Copywriting, Writing Tips, Writing Screenplays, and Your Writings - Stories, Essays, Poetry.
Book Writer™ – Word Processing for Writers
Are you writing a book?
Are you a student?
Are you researching?
If you are writing a book, or you have chapters, notes, papers, or any writings spread across multiple files, you can use Book Writer™ to free your creative mind from your computer.
Version 5.21: Now you can keep records on People, Places, Events, and Notes with your writings!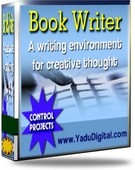 Combine related files into a project for easy management.
Merge individual chapters into a single manuscript for submissions.
Open all files in a project with a single click.
Move from file to file by clicking notebook tabs.
Find any word or phrase in all project files, opened or not.
Copy or move all files at once.
Zip all files in a project for backup or emailing.
Think of the right word easily with Active Thesaurus™.
Eliminate needless business functions from your word editor.
If you are a writer—not a business person or secretary—try this word processor made for writers!

More Information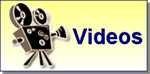 Whitesmoke™ – Check and Perfect Your Writing
Need help with grammar? Spelling? Punctuation?
No matter what software you are using for word processing, Whitesmoke can help perfect what you write! Grammar, spelling, and other language checking for fiction, non-fiction, business letters, legal medical documents, and email.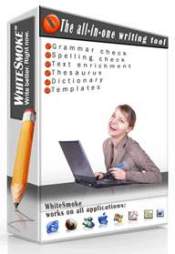 Works with any word processing software—Book Writer™, MS Word®, and others.
Perfect your English grammar with our English grammar check, grammar corrector, and grammar lessons.
Get just the right word with smart synonyms from our extensive synonyms dictionary.
Use the proofreader to check your English grammar and every other aspect of your writing.
Spell everything right with the spell checker's extensive dictionaries.
Power up your writing with relevant adjectives, adverbs, and phrases.
Get your punctuation right with the rules of the punctuation checker.
All these writing tools in one: Grammar checker, Thesaurus, Spell checker, Punctuation checker, Idioms dictionary.
Whitesmoke works with most applications! Use Whitesmoke with Book Writer™, Microsoft Word®, Outlook Express, Firefox, Internet Explorer—and many others.
Selected Articles and Stories

Why Book Writers Need A Running Mate
By far, I have found that the lack of discipline is the biggest hindrance for most people, when it comes to writing a book of any kind. Although I urge you as a would-be writer to develop a theme because once you are clear on "why" you want to write a book, your motivational level will shift into a higher gear, I also urge you to get an accountability partner.
Segmenting Your Target Audience Through Your Copywriting
Ask any copywriter what the first commandment of copywriting is and they'll quickly tell you "Know Thy Target Audience. " In order to write effectively you have to know this one group of people and know them well.
A Guide to Creative Writing That Sells
It's unbelievable that with all the creative writing courses out there, that no one teaches the necessity of researching your market before you set pen to paper. Yes, we all want to be creative and let our imagination go.
Copywriting Makeover: Making An Emotional Connection - Part 1 of 2
One statistic shows that over 80% of all buying decisions are emotional. That means your copywriting should be, too. This is something I firmly believe in and have preached for most of my copywriting career.
Screenwriting With Impact
The screenplay you've pounded out on your trusty word processor is finished at last! Before the reader even looks at the title of your script, it must pass the "rifle test. " The rifle test tells a professional in seconds whether the script is professionally written or not.
Writing Nonfiction
All of us are authors, and all of us have a book already written within us that needs to come out. I believe that fiction is the easiest to write because none of what you write can, or needs to be verified and you are only limited by your imagination.
My Favorite Errors to Correct (Don't make these mistakes, and your writing will rise above most other writing.) Part 1
Following is a compilation of the kinds of mistakes I see most often in writing, often by successfully published writers. This article is adapted from a handout I give my lifewriting students.
Modern Science Fiction
Science fiction is a narrative (usually in prose) or a short story, 'novella' or novel length. As to what it is about, is not easily classificable. Such stories are about an amazing variety of things, topics and ideas.
(0.001)
Bookmark Page
Bookmark Site
Software
Writing Resources
Other Websites