Tools and Resources for Writing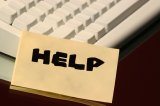 Software, articles, and other help for writers

If you are looking for software to help with your writing projects, look at our writing tools. If you like to read about writing, see the articles and ebooks in Writing Books, Writing eBooks, Writing Articles, Marketing Your Writings, Copywriting, Writing Tips, Writing Screenplays, and Your Writings - Stories, Essays, Poetry.
Book Writer™ – Word Processing for Writers
Are you writing a book?
Are you a student?
Are you researching?
If you are writing a book, or you have chapters, notes, papers, or any writings spread across multiple files, you can use Book Writer™ to free your creative mind from your computer.
Version 5.50: Now you can keep records on People, Places, Events, and Notes with your writings!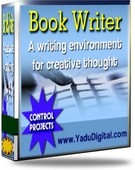 Combine related files into a project for easy management.
Merge individual chapters into a single manuscript for submissions.
Open all files in a project with a single click.
Move from file to file by clicking notebook tabs.
Find any word or phrase in all project files, opened or not.
Copy or move all files at once.
Zip all files in a project for backup or emailing.
Think of the right word easily with Active Thesaurus™.
Eliminate needless business functions from your word editor.
If you are a writer—not a business person or secretary—try this word processor made for writers!

More Information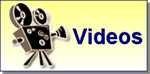 Whitesmoke™ – Check and Perfect Your Writing
Need help with grammar? Spelling? Punctuation?
No matter what software you are using for word processing, Whitesmoke can help perfect what you write! Grammar, spelling, and other language checking for fiction, non-fiction, business letters, legal medical documents, and email.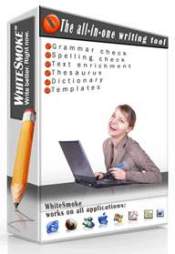 Works with any word processing software—Book Writer™, MS Word®, and others.
Perfect your English grammar with our English grammar check, grammar corrector, and grammar lessons.
Get just the right word with smart synonyms from our extensive synonyms dictionary.
Use the proofreader to check your English grammar and every other aspect of your writing.
Spell everything right with the spell checker's extensive dictionaries.
Power up your writing with relevant adjectives, adverbs, and phrases.
Get your punctuation right with the rules of the punctuation checker.
All these writing tools in one: Grammar checker, Thesaurus, Spell checker, Punctuation checker, Idioms dictionary.
Whitesmoke works with most applications! Use Whitesmoke with Book Writer™, Microsoft Word®, Outlook Express, Firefox, Internet Explorer—and many others.
See what it can do for your writing style.
WhiteSmoke 3-day FREE Trial
More Information
Selected Articles and Stories

Successful Audio Book Narration
It sounds easy, just open the book and read. You ever listen to a book on tape? Often a recognizable actor is the voice. Sounds like a winner, lets have Dustin Hoffman read us a story.
Free eBook Publishing Guide – Part 5 – Sell your eBook
Editing your Amazon record2-3 weeks after approving your proof, you will see your title appear as a record on Amazon. com in the US (inheriting the basic details that you entered when uploading to Lightning Source).
Publishing and Promoting of Poetry anthologies and chapbooks
So you have always dreamed of having your poetry published? Why not self-publish it or go with a pod publisher? Poetry is something perfect for self-publishing or pod publishing. Now you are asking yourself how you get started.
Secret Tricks For Making Your Writing Sound More Compelling
Online learning becomes more accepted, that's why it is getting harder to identify, which online educational establishments require students to finish legitimate coursework, and, which are diploma mills.
Defeating Writer's Block
If you're a writer, or a student, or anyone who's ever felt the desire or need to write, you know all about the dreaded thing known as writer's block. You sit at the computer, or your're at your desk with a pad and pen, ready to write.
How Can You Find Freelance Work As A Writer?
For those looking at the jobs listings for writers, they may find themselves feeling left out. There are simply not enough employment options available. When you are looking at the jobs listings, you may become frustrated and annoyed with the lack of the type of employment that you want.
What SEO Copywriting Is… and Isn't
I've been frustrated lately. It seems people just don't get it. There's lots of talk about SEO copywriting these days, but hardly any of it is on target. The majority of the conversations, posts and articles I've seen deal with topics like keyword density, allowable limits, over optimization and such.
Someday Dead Writers Need To Worry!
Do ya'll ever notice that the older you get, the more attention you pay to the obituaries section in the newspaper? I hate to admit it, but it's true. When I was a young man, I never even bothered looking at the obituaries.
(0.004)
Bookmark Page
Bookmark Site