Tools and Resources for Writing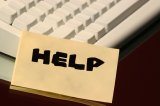 Software, articles, and other help for writers

If you are looking for software to help with your writing projects, look at our writing tools. If you like to read about writing, see the articles and ebooks in Writing Books, Writing eBooks, Writing Articles, Marketing Your Writings, Copywriting, Writing Tips, Writing Screenplays, and Your Writings - Stories, Essays, Poetry.
Book Writer™ – Word Processing for Writers
Are you writing a book?
Are you a student?
Are you researching?
If you are writing a book, or you have chapters, notes, papers, or any writings spread across multiple files, you can use Book Writer™ to free your creative mind from your computer.
Version 5.50: Now you can keep records on People, Places, Events, and Notes with your writings!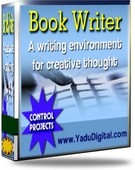 Combine related files into a project for easy management.
Merge individual chapters into a single manuscript for submissions.
Open all files in a project with a single click.
Move from file to file by clicking notebook tabs.
Find any word or phrase in all project files, opened or not.
Copy or move all files at once.
Zip all files in a project for backup or emailing.
Think of the right word easily with Active Thesaurus™.
Eliminate needless business functions from your word editor.
If you are a writer—not a business person or secretary—try this word processor made for writers!

More Information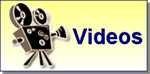 Whitesmoke™ – Check and Perfect Your Writing
Need help with grammar? Spelling? Punctuation?
No matter what software you are using for word processing, Whitesmoke can help perfect what you write! Grammar, spelling, and other language checking for fiction, non-fiction, business letters, legal medical documents, and email.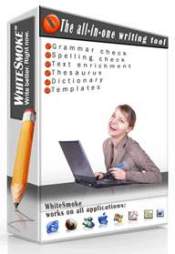 Works with any word processing software—Book Writer™, MS Word®, and others.
Perfect your English grammar with our English grammar check, grammar corrector, and grammar lessons.
Get just the right word with smart synonyms from our extensive synonyms dictionary.
Use the proofreader to check your English grammar and every other aspect of your writing.
Spell everything right with the spell checker's extensive dictionaries.
Power up your writing with relevant adjectives, adverbs, and phrases.
Get your punctuation right with the rules of the punctuation checker.
All these writing tools in one: Grammar checker, Thesaurus, Spell checker, Punctuation checker, Idioms dictionary.
Whitesmoke works with most applications! Use Whitesmoke with Book Writer™, Microsoft Word®, Outlook Express, Firefox, Internet Explorer—and many others.
See what it can do for your writing style.
WhiteSmoke 3-day FREE Trial
More Information
Selected Articles and Stories

The Lost Art Of Fundamental Copywriting
What ever happened to good old fashion, fundamental copywriting? Has anyone seen AIDA? I mean, before you can run, you first have to learn how to walk, right? Yet, I see it over and over again.
Make Big Money On Your Book - 10 H*O*T Tips
Wouldn't it be nice to write a book, get paid handsomely for it and be considered a top expert all at once? It's possible--if you know the rules. 1. Study the publishing industry.
Overcoming Writerís Block: Avoiding the Trap
I may as well just say it. Writerís block, Iím convinced, doesnít exist. Mostly, I think, authors use writerís block as an excuse to explain to themselves, an editor, or a concerned spouse why the book isnít done or the chapter hasnít been turned in.
How To Find Freelance Copywriting Jobs
Your goal is to land a few nice, secure freelance copywriting jobs, but how do you get them? The most important factor in finding these jobs is that you pursue the job you are looking for with all of your ducks in a row, so to speak.
Five Keys To Leaner and Meaner Copywriting
Grab 'em and don't lose 'em. Every marketer knows that one. Human beings have very short attention spans, so you can't afford to waste your prospect's time - give them the good stuff and then let them go as soon as you can.
The Psychology Of Effortless Writing
I love writing. I love the swirl and swing of words as they tangle with human emotions. ~James MichenerWriting has always been a highly pleasurable form of art for me. I find it surprising that many people view it as something to avoid as much as possible.
Writing Sales Copy That Sells
When writing a sales copy, all internet marketers know that a long copy will sell more than a short copy. This does not mean that the more words the better; the quantity and the quality of detail is what will improve its performance.
The Subjective World of Book Sales Numbers
Nielsen BookScan reports 4. 1 million copies of J. K. Rowlingís Harry Potter and the Half-Blood Prince sold in the U. S. in its first 24 hours of release. Industry tracker, Scholastic, reports when sales at Wal-Mart, Samís Club and airports are added, the figure jumps to 6.
(0.001)
Bookmark Page
Bookmark Site