Tools and Resources for Writing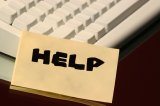 Software, articles, and other help for writers

If you are looking for software to help with your writing projects, look at our writing tools. If you like to read about writing, see the articles and ebooks in Writing Books, Writing eBooks, Writing Articles, Marketing Your Writings, Copywriting, Writing Tips, Writing Screenplays, and Your Writings - Stories, Essays, Poetry.
Book Writer™ – Word Processing for Writers
Are you writing a book?
Are you a student?
Are you researching?
If you are writing a book, or you have chapters, notes, papers, or any writings spread across multiple files, you can use Book Writer™ to free your creative mind from your computer.
Version 5.50: Now you can keep records on People, Places, Events, and Notes with your writings!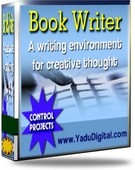 Combine related files into a project for easy management.
Merge individual chapters into a single manuscript for submissions.
Open all files in a project with a single click.
Move from file to file by clicking notebook tabs.
Find any word or phrase in all project files, opened or not.
Copy or move all files at once.
Zip all files in a project for backup or emailing.
Think of the right word easily with Active Thesaurus™.
Eliminate needless business functions from your word editor.
If you are a writer—not a business person or secretary—try this word processor made for writers!

More Information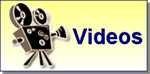 Whitesmoke™ – Check and Perfect Your Writing
Need help with grammar? Spelling? Punctuation?
No matter what software you are using for word processing, Whitesmoke can help perfect what you write! Grammar, spelling, and other language checking for fiction, non-fiction, business letters, legal medical documents, and email.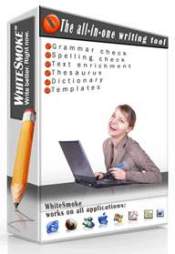 Works with any word processing software—Book Writer™, MS Word®, and others.
Perfect your English grammar with our English grammar check, grammar corrector, and grammar lessons.
Get just the right word with smart synonyms from our extensive synonyms dictionary.
Use the proofreader to check your English grammar and every other aspect of your writing.
Spell everything right with the spell checker's extensive dictionaries.
Power up your writing with relevant adjectives, adverbs, and phrases.
Get your punctuation right with the rules of the punctuation checker.
All these writing tools in one: Grammar checker, Thesaurus, Spell checker, Punctuation checker, Idioms dictionary.
Whitesmoke works with most applications! Use Whitesmoke with Book Writer™, Microsoft Word®, Outlook Express, Firefox, Internet Explorer—and many others.
See what it can do for your writing style.
WhiteSmoke 3-day FREE Trial
More Information
Selected Articles and Stories

You Don't Have To Be A Genius To Write A Love Poem
Love poems are a wonderfully romantic gesture and can often express your thoughts far more eloquently than verbal communication. If you have some talent with words, why not take a few moments and try your hand at writing a poem for your lover?
Write your eBook Fast--First Steps to Finishing Line
Why write an eBook? You want ongoing, lifelong multiple streams of income. You want to raise your credibility and trust ratings with clients or customers. You want to get your message out so the world can be a better place.
Book Review: The Sound of Paper
She splits her year between New York City and Arizona. Ihave been a fan since her first book and especially enjoyed"The Artist Way. " I like to believe that I was one of thefirst to devour it page by page, exercise by exercise.
Write Articles And Captivate Your Readers
To get your name out there, write articles and allow them to be freely reproduced (with a resource box pointing back to you. ) A well-written article can: - help build your profile- draw traffic to your site, and- help build a database of clients through associated e-courses or newsletter.
Setting Your Fees as a Freelance Writer or Copywriter.
Probably the most common and frustrating problem any freelance writer has is setting his or her fees. If you're too high, you cut yourself out of a lot of good business. If you're too low, you get far too much work and you can't do the client a really good job because he hasn't paid you enough for your time.
Copywriting for Sales - Understand Your Audience's Need
Regardless of what you're selling, marketing or promoting, you have to have a good understanding of your audience before you can create effective copywriting. Without knowing who you're writing for and what they hope to get from the copy you create, your copy might not achieve the desired effect.
Writing Articles As An Affordable Internet Marketing Method
Ever heard of affiliate programs? These are forms of Internet advertising that rewards the affiliates for driving traffic to the advertiser or for other transactions. The advertiser pays the affiliate to place a link on their website, and the affiliate sends traffic to the advertiser in return.
10 Top Tips For Writing A Super Responsive Ezine
One of the most often asked questions that I see is 'how can I write an ezine that people will want to read. ' Anyone can tell you that there is 'money in the list' but how do you create a list of readers who are happy to send money in your direction?
(0.001)
Bookmark Page
Bookmark Site