Tools and Resources for Writing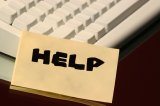 Software, articles, and other help for writers

If you are looking for software to help with your writing projects, look at our writing tools. If you like to read about writing, see the articles and ebooks in Writing Books, Writing eBooks, Writing Articles, Marketing Your Writings, Copywriting, Writing Tips, Writing Screenplays, and Your Writings - Stories, Essays, Poetry.
Book Writer™ – Word Processing for Writers
Are you writing a book?
Are you a student?
Are you researching?
If you are writing a book, or you have chapters, notes, papers, or any writings spread across multiple files, you can use Book Writer™ to free your creative mind from your computer.
Version 5.50: Now you can keep records on People, Places, Events, and Notes with your writings!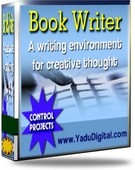 Combine related files into a project for easy management.
Merge individual chapters into a single manuscript for submissions.
Open all files in a project with a single click.
Move from file to file by clicking notebook tabs.
Find any word or phrase in all project files, opened or not.
Copy or move all files at once.
Zip all files in a project for backup or emailing.
Think of the right word easily with Active Thesaurus™.
Eliminate needless business functions from your word editor.
If you are a writer—not a business person or secretary—try this word processor made for writers!

More Information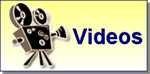 Whitesmoke™ – Check and Perfect Your Writing
Need help with grammar? Spelling? Punctuation?
No matter what software you are using for word processing, Whitesmoke can help perfect what you write! Grammar, spelling, and other language checking for fiction, non-fiction, business letters, legal medical documents, and email.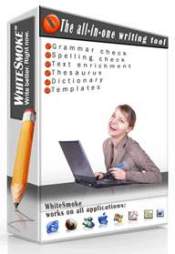 Works with any word processing software—Book Writer™, MS Word®, and others.
Perfect your English grammar with our English grammar check, grammar corrector, and grammar lessons.
Get just the right word with smart synonyms from our extensive synonyms dictionary.
Use the proofreader to check your English grammar and every other aspect of your writing.
Spell everything right with the spell checker's extensive dictionaries.
Power up your writing with relevant adjectives, adverbs, and phrases.
Get your punctuation right with the rules of the punctuation checker.
All these writing tools in one: Grammar checker, Thesaurus, Spell checker, Punctuation checker, Idioms dictionary.
Whitesmoke works with most applications! Use Whitesmoke with Book Writer™, Microsoft Word®, Outlook Express, Firefox, Internet Explorer—and many others.
See what it can do for your writing style.
WhiteSmoke 3-day FREE Trial
More Information
Selected Articles and Stories

Top Ten Ways to Know your Book Concept will Sell--Before you Invest Time and Money
Make your book stand out from the crowd! Test your book's significance, find your market before you write, and treat your book as part of your business. 1. Test your book's significance.
Write Benefits in Your Headlines to Deliver the Dream!
When you create headlines, do you put benefits into your headlines to deliver the dream? Do you create headlines that draw your reader deeper into the rest of copy? Let me ask you a simple question.
Tackling a Writing Assignment: How To Get Started
Writing assignments are often considered the worst possible class or course assignment. There's nothing worse than sitting down in front of a computer, with a blank screen in front of you.
Platform Development Tip #1: Switch Writing Hats!
Platform-Building Tip #1: Switch Writing Hats! Around eighty percent of nonfiction books today are written by "experts," that is people who have a) earned credentials in the field they're writing about, b) germinated information via articles, live presentations or other media, or c) had extraordinary, unique or memorably told life experiences relevant to their topic.
Writing Resources: 7 Books For Improving Your Manuscript
Whether a crawling novice or polished professional, writers from every walk of life have room for improvement in their work. An endless array of rules and techniques must be kept in mind when writing – punctuation, grammar, transition, show don't tell, etc.
Succeeding in the Business of Freelance Writing
Something that's always surprised me about the freelance writing business is just how many writers there are out there who don't seem to realize that they're running a business. Succeeding in the Business of Freelance WritingOf the freelance writers who send quotes to prospective employers through my website, http:
Copywriting for Sales - Understand Your Audience's Need
Regardless of what you're selling, marketing or promoting, you have to have a good understanding of your audience before you can create effective copywriting. Without knowing who you're writing for and what they hope to get from the copy you create, your copy might not achieve the desired effect.
How You Can Take Advantage of the Increasing Demand for Freelance Online Writers
The freelance writing market is a growing market to be in. There are many jobs available, but sometimes, it can be hard to find the work that you want, and available at the time you want it to be.
(0.001)
Bookmark Page
Bookmark Site