Tools and Resources for Writing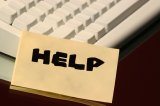 Software, articles, and other help for writers

If you are looking for software to help with your writing projects, look at our writing tools. If you like to read about writing, see the articles and ebooks in Writing Books, Writing eBooks, Writing Articles, Marketing Your Writings, Copywriting, Writing Tips, Writing Screenplays, and Your Writings - Stories, Essays, Poetry.
Book Writer™ – Word Processing for Writers
Are you writing a book?
Are you a student?
Are you researching?
If you are writing a book, or you have chapters, notes, papers, or any writings spread across multiple files, you can use Book Writer™ to free your creative mind from your computer.
Version 5.50: Now you can keep records on People, Places, Events, and Notes with your writings!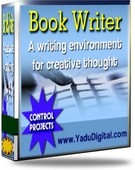 Combine related files into a project for easy management.
Merge individual chapters into a single manuscript for submissions.
Open all files in a project with a single click.
Move from file to file by clicking notebook tabs.
Find any word or phrase in all project files, opened or not.
Copy or move all files at once.
Zip all files in a project for backup or emailing.
Think of the right word easily with Active Thesaurus™.
Eliminate needless business functions from your word editor.
If you are a writer—not a business person or secretary—try this word processor made for writers!

More Information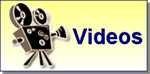 Whitesmoke™ – Check and Perfect Your Writing
Need help with grammar? Spelling? Punctuation?
No matter what software you are using for word processing, Whitesmoke can help perfect what you write! Grammar, spelling, and other language checking for fiction, non-fiction, business letters, legal medical documents, and email.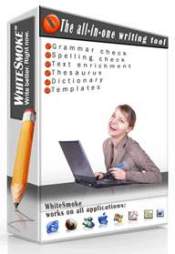 Works with any word processing software—Book Writer™, MS Word®, and others.
Perfect your English grammar with our English grammar check, grammar corrector, and grammar lessons.
Get just the right word with smart synonyms from our extensive synonyms dictionary.
Use the proofreader to check your English grammar and every other aspect of your writing.
Spell everything right with the spell checker's extensive dictionaries.
Power up your writing with relevant adjectives, adverbs, and phrases.
Get your punctuation right with the rules of the punctuation checker.
All these writing tools in one: Grammar checker, Thesaurus, Spell checker, Punctuation checker, Idioms dictionary.
Whitesmoke works with most applications! Use Whitesmoke with Book Writer™, Microsoft Word®, Outlook Express, Firefox, Internet Explorer—and many others.
See what it can do for your writing style.
WhiteSmoke 3-day FREE Trial
More Information
Selected Articles and Stories

Finish Your Book Already!
I owe the completion and success of my book to a big cardboard box that saw me through the entire process. I found this box and filled it with any and all information I could find on my topic 'advanced presentation skills for speakers and business presenters.
9 Tips for Better Copywriting
Avoid the wimpy verbs—is and be. These "do-little" verbs only occupy space and state that something exists. So don't write, "There is one simple omission that can transform a sentence from boring to brilliant.
How To Write Lightening Fast Ebooks
The quickest way the write you own eBooks is by using the expert interview process. What I mean by this is, approaching some experts in the field your writing the book on and asking them to agree to do an interview.
AUTOBIOGRAPHY: How to Write & Publish Your Life Story
Have you ever thought about writing your life story as a book? Do you have fascinating events in your life to tell that you know would make a bestselling book? Of course you do! And the world needs to hear your story.
How to Write Search Relevant Ezine Articles That Gets Published
A good ezine writer can become a star in their field when widely published. Those who provide great content and who make it easy to publish can escalate their writing careers. Organizations who publish quality content in trade for publicity can achieve maximum exposure if they follow some simple guidelines.
How to Write a Resume That Stands Out From The Crowd
Today's job market is competitive. Many companies receive hundreds of resumes a year, making it difficult for yours to stand out from the crowd. However, that should not keep you from getting interviews.
Getting Started in Column Writing
You've written many articles for Websites, newsletters and now you've even conquered the territory of getting published in a magazine. What's the next step, you ask? How to I make the editor ask for my work weekly or monthly?
Secret Tricks For Making Your Writing Sound More Compelling
Online learning becomes more accepted, that's why it is getting harder to identify, which online educational establishments require students to finish legitimate coursework, and, which are diploma mills.
(0.010)
Bookmark Page
Bookmark Site