Tools and Resources for Writing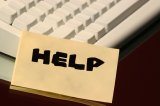 Software, articles, and other help for writers

If you are looking for software to help with your writing projects, look at our writing tools. If you like to read about writing, see the articles and ebooks in Writing Books, Writing eBooks, Writing Articles, Marketing Your Writings, Copywriting, Writing Tips, Writing Screenplays, and Your Writings - Stories, Essays, Poetry.
Book Writer™ – Word Processing for Writers
Are you writing a book?
Are you a student?
Are you researching?
If you are writing a book, or you have chapters, notes, papers, or any writings spread across multiple files, you can use Book Writer™ to free your creative mind from your computer.
Version 5.50: Now you can keep records on People, Places, Events, and Notes with your writings!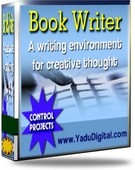 Combine related files into a project for easy management.
Merge individual chapters into a single manuscript for submissions.
Open all files in a project with a single click.
Move from file to file by clicking notebook tabs.
Find any word or phrase in all project files, opened or not.
Copy or move all files at once.
Zip all files in a project for backup or emailing.
Think of the right word easily with Active Thesaurus™.
Eliminate needless business functions from your word editor.
If you are a writer—not a business person or secretary—try this word processor made for writers!

More Information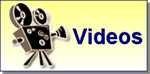 Whitesmoke™ – Check and Perfect Your Writing
Need help with grammar? Spelling? Punctuation?
No matter what software you are using for word processing, Whitesmoke can help perfect what you write! Grammar, spelling, and other language checking for fiction, non-fiction, business letters, legal medical documents, and email.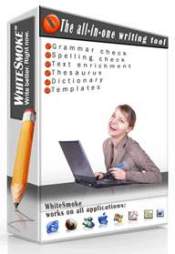 Works with any word processing software—Book Writer™, MS Word®, and others.
Perfect your English grammar with our English grammar check, grammar corrector, and grammar lessons.
Get just the right word with smart synonyms from our extensive synonyms dictionary.
Use the proofreader to check your English grammar and every other aspect of your writing.
Spell everything right with the spell checker's extensive dictionaries.
Power up your writing with relevant adjectives, adverbs, and phrases.
Get your punctuation right with the rules of the punctuation checker.
All these writing tools in one: Grammar checker, Thesaurus, Spell checker, Punctuation checker, Idioms dictionary.
Whitesmoke works with most applications! Use Whitesmoke with Book Writer™, Microsoft Word®, Outlook Express, Firefox, Internet Explorer—and many others.
See what it can do for your writing style.
WhiteSmoke 3-day FREE Trial
More Information
Selected Articles and Stories

Writing in the Shower (or Wherever You May Be)
I just glanced at the clock. 7: 35 am. That leaves me ten, maybe fifteen minutes to write before it's time for me to head for my day job. What can I possibly accomplish in so little time?
Revealed: The $12,500 Copywriting Formula
Have you heard of Brian Keith Voiles? Probably not, but if you have eyes you've seen his ad campaigns and you probably even bought products that he created ad campaigns for. Would you like to have the formula he gets paid $12,500 to put into use for Fortune 500 Companies?
Five Secrets of Winning Book Proposals
Working in the publishing industry comes with a high expectation, especially from complete strangers. After the causal 'hello' progresses to 'what do you do,' and my answer is 'I am a publisher,' the words, like fairy dust, work magic; and in the eyes of my conversation partner, I'm transformed into a glamorous Advice Goddess—would I mind reading this stranger's book proposal?
Screenwriting Tips from a Screenplay Contest Judge
After cracking hundreds of screenplays sent into the BlueCat Screenplay Competition, the same problems in the execution of the story and script continue to emerge. Here is a general overview of these persistent issues.
How You Can Improve Your Songwriting Skill
Are you a beginning songwriter who strives towards writing songs that become hits? Do you need to know how you can improve your songwriting skill? It's not too complicated. Don't try to re-invent the wheel.
Who Else Wants to Get Screwed When Signing a Recording or Songwriting Deal?!?!
You've got your recording (or songwriting) contract in hand and everything's coming up roses, right? You get your check, finally, but it's not quite what you expected. If you sign not knowing what's owed you then you might be shorted some well-deserved income.
Defeating Writer's Block
If you're a writer, or a student, or anyone who's ever felt the desire or need to write, you know all about the dreaded thing known as writer's block. You sit at the computer, or your're at your desk with a pad and pen, ready to write.
How To Write A Problem Solving Article
If you are like me then topics and ideas for writing articles about my product, service or niche can be tricky and getting started even worse. You will probably know the problems people have in your industry.
(0.001)
Bookmark Page
Bookmark Site